Kevin Marshall wins silver at York Open
The Western Wrestling team traveled to York on Saturday to compete in the York Open
The lone medal winner for the Mustangs was Kevin Marshall who placed 2nd in the 100kg division. Marshall lost to Jordan Steen from Montreal in the final. Steen was the recent winner of the Commonwealth Wrestling Trails and will be representing Canada at the Commonwealth Games in April.
Other Mustang men in the top six included: 4th Anthony Parker 120 kg , 5th Lauchlin MacDonald 68kg, 5th Arjun Sahota 90kg, London-Western Club member Adam MacFadyen was 4th at 65kg
On the Women's side Christine Grafe was the only top six finisher for the Mustangs placing 4th at 48kg.
Next up for the Mustangs is the Senior Provincials on Sunday November 26th.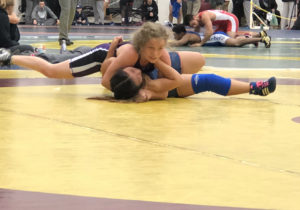 Christine Grafe pinning her opponent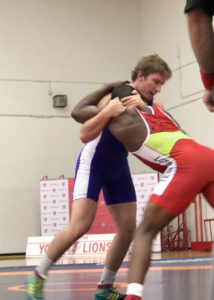 Kevin Marshall controlling his opponent with the under-hook
Summary
2nd Kevin Marshall 100kg
4th Christine Grafe 48kg
4th Anthony Parker 120kg
4th Adam MacFadyen 65kg (London-Western)
5th Lauchlin MacDonald 68kg
5th Arjun Sahota 90kg