Mustangs compete in the Guelph Open
The Mustang wrestling team traveled to Guelph on Sunday to compete in the Guelph Open. The team captured one medal and numerous top six finishes.
Kevin Marshall was the lone mustang medalist placing third in the 92kg division. Other men who placed in the top six included: 4th Chris Nikolaou 57kg, 5th Brayden Ambo 79kg, 5th Anthony Parker 125kg and 6th Bennet Jaworski 74kg. Michalia Walls was the only female representing Western and placed 4th in the 62kg division. Michalia lost a close bronze medal to American wrestler Brianna Csonto. London-Western Wrestling Club member Kyle Bonk won a bronze medal in the 97kg weight class.
Two events remain for the Mustangs before the OUA championships on Feb.11th at Brock University. The Juniors will be travelling to Windsor on Saturday to compete in the Junior Provincial Championships and the rest of the team will be competing at the Western Open on Saturday Jan. 27th starting at 9:30 a.m. in Thames Hall.
Summary:
3rd Kevin Marshall 92kg
3rd Kyle Bonk 97kg (London-Western Wrestling Club)
4th Michalia Walls 62kg
4th Chris Nikolaou 57kg
5th Braydon Ambo 79kg
5th Anthony Parker 125kg
6th Bennet Jaworski 74kg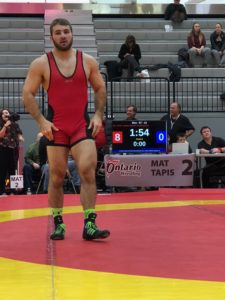 Kyle Bonk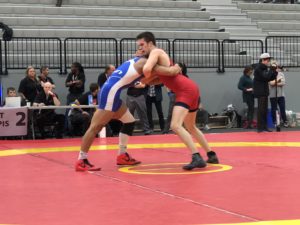 Lauchlin MacDonald tying up with his opponent