Wrestlers back in action at Brock Open
The Western wrestling team started the second half of their season on Saturday Jan. 13th in St. Chatherines at the Brock Open.
The mustangs had a number of top 6 finishers. On the men's side Kevin Marshall placed 4th at 100kg. Marshall did not wrestle his bronze medal match, suffering an upper body injury in a previous match.  Anthony Parker also placed 4th at 130kg. Other top six placers for the men included Chris Nikolaou at 61kg and Jackson Browning at 90kg.
On the women's side Michalia Walls won the bronze medal at 63kg. This is Michalia's 4th individual medal of the season. Christine Grafe placed in the top 6 finishing 4th at 48kg.
Three members of the London-Western Wrestling Club competed on Saturday and brought home three medals. Kyle Bonk was 2nd at 90kg, Nolan Denium was 2nd at 82kg and high school wrestler Brayden Tood was 3rd at 61kg
Next up for the Mustangs is the Guelph Open on Sunday Jan. 21st followed by our home meet on the 27th at Thames Hall.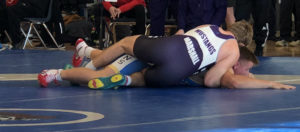 Kevin Marshall looks to turn his opponent.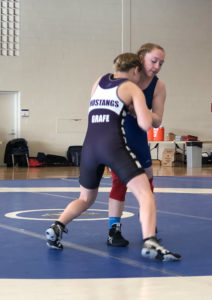 Christine Grafe tying-up with her opponent
Summary:
2nd 82kg Nolan Denium (London-Western Wrestling Club)
2nd 90kg Kyle Bonk (London-Western Wrestling Club)
3rd 63kg Michalia Walls
3rd Braydon Tood (London-Western Wrestling Club)
4th Christine Grafe 48kg
4th Kevin Marshall 100kg
4th Anthony Parker 120kg
6th Chris Nikolaou 61kg
6th Jackson Browning 90kg