Wrestlers win two golds at Ryerson Open and place second overall as a team
The Mustang wrestling team continued their impressive start to the season with an strong showing at the Ryerson Open on Saturday November 11th. The Mustangs placed second overall as a team and claimed 7 individual medals.
Michalia Walls coming off a silver medal performance last weekend continued an excellent start to her season by going a perfect 3-0 (win-loss) and claimed gold in the 63kg division.
Kennedy McMillan was the other Mustang women who won a medal on Saturday. Kennedy, wrestling in the 59kg division, picked up two wins to earn the bronze.
Other Mustang women who placed in the top six were; Jessica Ly 67kg and Olivia Cirillo 72kg both placing 4th.
First year wrestler and London Central grad Anthony Parker won all 4 of his matches to win the gold medal at 120kg.
The men's team had three silver medal winners. Improving on their fourth and fifth place finishes from last weekend respectively Chris Nikolaou 57kg and Lauchlin MacDonald 68kg both won silver medals. Competing in his first tournament of the season fourth year wrestler Caleb Rutner 72kg won a silver medal.  Rounding out the medal winners for the Mustang men and earning his second medal in as many weekends was Brayden Ambo who won a bronze medal at 76kg.
Top six finishers for the Western men were; 4th Collin Johnston 90kg, 4th Kevin Marshall 100kg, 5th Maharus Noorani 120kg, 6th Jackson Browning 90kg.
Next up for the wrestling team is the York Open on November 18th.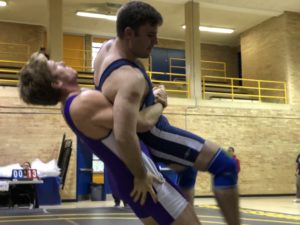 Kevin Marshall with the throw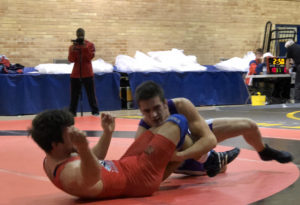 Lauchlin MacDonald scoring with the x-ankles
Summary:
1st Michalia Walls 63kg
1st Anthony Parker 120kg
2nd Chris Nikolaou 57kg
2nd Lauchlin MacDonald 68kg
2nd Caleb Rutner 72kg
3rd Kennedy McMillan 59kg
3rd Brayden Ambo 76kg
4th Jessica Ly 67kg
4th Collin Johnston 90kg
4th Kevin Marshall 100kg
5th Maharus Noorani 120kg
6th Jackson Browning 90kg