Ray Takahashi
Ray Takahashi was coached while a student at Western by Glynn Leyshon and Josip Mrkoci. As a member of London-Western and a mustang, Takahahashi won four CIAU(CIS) titles, and competed in numerous international competitions representing Canada. He was named Canadian Wrestler of the year twice (1978, 1984) and was inducted into the Canadian Wrestling  Hall of Fame (CAWA) in 1991. After his third Olympic team in 1984 (placed 4th), Takahashi returned to Western to pursue graduate work which led to the mustang coaching position in 1985.
Takahashi coached the mustangs to OUA team titles in 1990, 91, 94, 2012, '13 and one CIS title in 1990. The women mustangs won their first OUA team title in 2007 and 7 years later in 2014. Under his leadership, Takahashi established the Wrestling Wall of Fame in 1985, implemented the women's program in 1996-97, and inaugurated the Leyshon Trophy (Most Dedicated Wrestler), and the Leyshon Award (financial need award). Takahashi was selected as OUA coach of the year 10 times, which includes women's coach of the year 7 times. He was CIS coach of the year in 1990.
Currently, Takahashi is a Faculty member in the School of Kinesiology and is married to wife, Janet, with two children, daughter Mariko, and son Steven, who is a current member of the National Team.
Sport Education:
•BA (Hon) 1982, The University of Western Ontario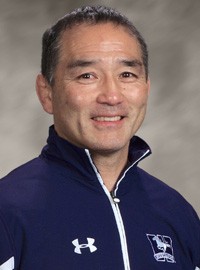 •MA (Coaching Specialization) 1988, The University of Western Ontario
•NCCP Level 4 Wrestling, ChPC
•Judo Black Belt (Kodokan 3rd Degree)
Competitive Results
| | | | |
| --- | --- | --- | --- |
| Date | Competition | Weight | Rank |
| 1984-08-07 | Olympic Games | 52 | 4 |
| 1984-03-30 | World Cup | 52 | 2 |
| 1983-09-26 | World Championships | 52 | 8 |
| 1983-01-01 | Pan American Games | 52 | 1 |
| 1982-10-04 | Commonwealth Games | 52 | 2 |
| 1982-08-12 | World Championships | 52 | 9 |
| 1982-03-28 | World Cup | 52 | 3 |
| 1981-07-25 | World University Games | 52 | 4 |
| 1980-03-28 | World Cup | 52 | 3 |
| 1978-01-01 | Commonwealth Games | 52 | 1 |
| 1980-07-29 | Olympic Games (Boycotted) | 52 | DNC |
| 1977-07-14 | Junior World Championships | 52 | 5 |
| 1976-07-27 | Olympic Games | 48 | 11 |