Wrestlers compete at home and Ontario Juniors
The Western Wrestling team had a busy and successful weekend. The majority of the team competed at the Western Open hosted in Thames Hall.  The Mustangs were led by 48kg wrestler Christine Grafe who won gold. Grafe went a perfect 3-0 on the day to earn the title. Three other mustang women placed in the top six; 4th Olivia Cirillo 67kg, 5th Rachael Gibson 59kg, and 6th Jessica Ly 72kg.
On the Men's side the mustangs won three Bronze medals. Brayden Ambo in the 76kg division, Jackson Browning at 82kg and in the 120kg division by Maharus Noorani. Other Mustangs in the top six included; 5th Greg Clark 61kg, 5th Lauchlin MacDonald 65kg, 5th Bennet Jaworski 76kg and 6th Collin Johnston 82kg. London-Western Wrestling Club member Adam MacFadyen won a silver medal at 65kg.
Three members of the team travelled to Windsor to compete at the Ontario Junior championships. First year mustang Anthony Parker won gold in the 125kg division. Chris Nikolaou won a Bronze medal in the 57kg and wrestling in the 79kg division Adam Pacyga was 5th.  Three members of the London-Western Wrestling Club also competed at the Ontario Juniors. Brayden Todd placed 2nd at 57kg, John Campbell placed 3rd at 92kg and Jeremy Nickles was 4th in the 65kg division.
Next up for the Mustangs are the OUA Championships on Feb 11th at Brock University.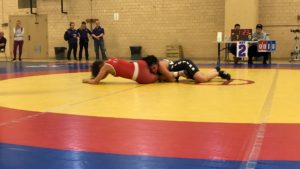 Rachael Gibson turning her opponent in the x- ankles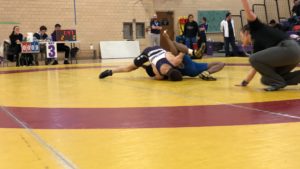 Lauchlin MacDonald with the cradle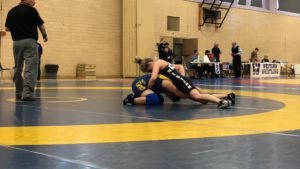 Christine Grafe defending a leg attack
Summary:
Western Open
1st Christine Grafe 48kg
2nd Adam MacFayden 65kg (London-Western Wrestling Club)
3rd Braydon Ambo 76kg
3rd Jackson Browning 82kg
3rd Maharus Norrani 120kg
4th Olivia Cirillo 67kg
5th Rachael Gibson 59kg
5th Lauchlin MacDonald 65kg
5th Bennet Jaworski 76kg
6th Collin Johnston 82kg
6th Jessica Ly 72kg
Ontario Juniors:
1st Anthony Parker 125kg
2nd Brayden Todd 57kg (London-Western Wrestling Club)
3rd Chris Nikolaou 57kg
3rd John Campbell (London-Western Wrestling Club)
4th Jeremy Nickles 65kg (London-Western Wrestling Club)
5th Adam Pacyga 79kg